As a digital marketing agency with over a decade of experience working with independent agency owners just like you, we know that renewals & referrals are the lifeblood of your business. But accounts bleed off, referrals can fluctuate and sometimes even your best carriers pull back in certain markets. That means you need to have a certain amount of new business inquiries coming in every month to combat these issues. That's where we come in.
Our proven strategy will help your agency build a pipeline of new business through a variety of ways. It starts with a mobile responsive, fast loading, and built technically sound to get on the map with Google. We then layer both direct and indirect marketing techniques that bring in new opportunities via different channels.  
Even today many agencies are skeptical and hesitant to engage in digital marketing. But it's a large and growing business. We all know that many of the traditional marketing marketing channels that were the hallmark of agency growth as early as 15 years ago are all but dead.   
In 2022, the Digital Marketing for Insurance Agencies market was valued at a staggering USD 115.6 billion, a figure that's anticipated to catapult to a colossal USD 271.1 billion by 2030. This robust growth represents a Compound Annual Growth Rate (CAGR) of 11.24% from 2023 to 2030.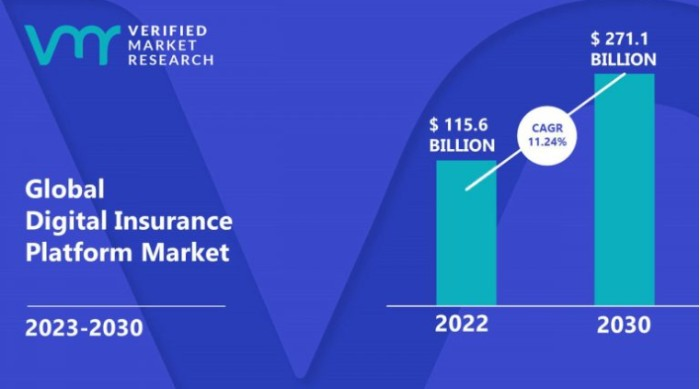 Image Courtesy: verifiedmarketresearch.com
It's a clear indicator of the future direction of the insurance industry: digital, seamless, and customer-centric. But what does this digital metamorphosis mean for your insurance agency? Let's delve deeper into the implications and opportunities of this digital evolution in insurance.
What is Digital Marketing? 
When looking to buy something, people usually start by searching online, and this applies to insurance policies as well. Whether it's car, home, or renter's insurance, it's crucial for insurance companies to have a strong online presence. Here are some essential digital marketing strategies for insurance agents and companies. It's all about connecting with your audience in the right place and at the right time. In today's world, that means meeting them where they are already spending time: on the Internet.
Now, you might think, "I get what digital marketing is, but why does it matter to my insurance agency?" Great question! It is crucial for the growth and success of your insurance business that you understand why it's important.
Top 5 Reasons Why Digital Marketing for Insurance Agencies is Important
Here are the top five reasons why insurance agencies should give digital marketing a serious look:
1. Reach Your Target Audience
Your potential customers browse the internet, use social media, or check their emails. Hence, digital marketing provides a valuable opportunity for insurance agencies to reach their target audience where they already spend their time.
With tools like targeted ads, you can reach customers based on their interests, behaviors, and even specific search terms they've used. This allows you to create personalized messages that resonate with your potential clients, enhancing the likelihood of conversions. You're actively targeting those likely to be interested in your services.
2. Convert Website Users Into Clients
Your website isn't just a digital brochure; it's a powerful sales tool. Every website should be crafted with an eye for conversions, from the visual design to the content and calls-to-action.
Using digital marketing tactics like SEO and PPC, you can drive targeted traffic to your website. This will help you convert visitors into paying customers. For instance, a clear call to action could lead your website visitor to a quote comparison page, an insurance calculator, or a contact form.
3. Brand Identity and Website Traffic
Increasing your digital presence through SEO and social media marketing boosts website traffic and raises brand awareness. People need to know you before they can trust you, and digital marketing allows you to reach people who may not be aware that your insurance agency exists.
Brand awareness goes hand in hand with website traffic. When your brand appears frequently in search engine results, social media platforms, and email campaigns, more people will become familiar with your brand and the services you provide.
4. SEO To Rank Higher
People looking for insurance services are likely to start their search online, often using search engines like Google. That's why search engine optimization is essential for insurance companies. You need to rank highly on search engine results pages (SERPs) for relevant keywords. Otherwise, your potential customers won't be able to find you.
SEO encompasses several strategies that you can implement on your website, such as optimizing page titles and meta descriptions, improving loading speed, and adding relevant ALT tags to images.
5. Cost-Effective 
Digital marketing offers a cost-effective alternative to traditional marketing channels like TV, radio, and print. This is particularly beneficial for smaller insurance agencies that may not have substantial marketing budgets.
Starting with a small budget is always a good idea. You can track and adjust your campaigns in real-time to ensure that your marketing dollars are used effectively. Whether you're investing in pay-per-click advertising, social media marketing, or content creation, you can reach a large audience at a fraction of the cost of traditional advertising methods.
Digital Marketing for Insurance Agencies: Your Step-by-step Guide
If you want to grow your insurance agency, digital marketing is invaluable. From increasing website traffic and boosting brand awareness to targeting potential clients and converting leads, there are many benefits that digital marketing can offer. Now that you know the basics of digital marketing for insurance agencies, you can get started creating campaigns that will reach your target audience and drive conversions.
1. Determine Your Target Customer
Before you jump into implementing your digital marketing strategies, it's crucial to know who your customers are. You should understand their demographics, interests, behaviors, and, most importantly, their needs.
You can develop more effective and targeted marketing campaigns by understanding your customer base. For example, knowing that your customers value quick and responsive service can guide you in creating content highlighting your agency's commitment to fast service.
2. A Modern Website
Consider your website as your digital storefront. It needs to be aesthetically pleasing and easy to navigate, and it should provide all the necessary information for your clients.
Your website should load quickly, be mobile-friendly, and contain clear calls to action (CTA). Whether you want visitors to request a quote, schedule a consultation, or simply learn more about your services, ensure these actions are easy to perform on your website.
3. High-Quality Content is the King
Content is king in digital marketing. It helps to build trust with your audience, attract new customers, and keep your existing customers engaged.
This could be anything from blog posts and articles to infographics and videos. As long as it's relevant and valuable to your audience, it can work to drive traffic to your site, improve your SEO rankings, and establish your agency as a trusted authority in the insurance field.
4. The Art of Gated Content
Gated content is a great way to generate leads. This is content that's hidden behind a virtual gate. If the content is valuable enough, your visitors will be more than willing to share their contact information in exchange for access.
This could be anything from an e-book to a weekly newsletter. The idea is to provide so much value that people will give you their contact information in return. This then allows you to nurture these leads through email marketing.
5. Effective and Affordable Email Campaigns
Email continues to be a powerful tool in digital marketing. With an effective email campaign, you can maintain consistent communication with your customers, provide them with valuable information, and nurture potential leads.
For your email campaigns to be effective, they need to be personalized and provide value. Segment your email list to send tailored messages to different customer groups. This will improve your open rates, engagement, and, ultimately, conversions.
6. Search Engine Optimization
We've talked about SEO before, but it's worth mentioning again because it's so important. SEO is crucial if you want to attract organic traffic to your website.
This involves optimizing your website's content and structure to make it attractive to search engines. But it's not just about stuffing your content with keywords. It's about creating quality content that answers your audience's questions and provides them with value.
7. Social Media that Talks
Social media is a valuable tool for connecting with your audience more personally. It's a space to share updates, promote your content, and engage with your customers in real-time.
However, consistency is key in social media marketing. Regular posting keeps your brand top of mind and encourages ongoing engagement from your followers. Create a social media calendar to ensure you're posting consistently and at optimal times.
8. Repurpose Quality Content
You've spent significant time and effort creating great content. Why not get the most out of it by repurposing it? Repurposing content allows you to present your existing content in different formats or on different platforms, expanding its reach and providing more avenues for engagement.
For instance, an informative blog post can be transformed into an engaging infographic, a brief video, or even a podcast episode. Not only does this extend the life of your content, but it also caters to different audience preferences.
9. Automate 
In the digital world, automation is your friend. It saves you time and ensures that your marketing efforts run smoothly even when you're not physically managing them.
Whether scheduling social media posts, setting up email campaigns, or tracking your website's performance, numerous aspects of your online marketing strategy can be automated. This gives you more time to focus on strategic planning and other high-priority tasks.
10. Research & Development
Research and development (R&D) is critical in staying ahead of the curve in your digital marketing efforts. This involves staying updated with the latest marketing trends and technology, researching your competitors' strategies, and consistently analyzing and optimizing your own marketing efforts.
This might seem overwhelming, but it's crucial for your long-term success. Consider allocating specific time for R&D each week, and remember that small, continuous improvements often lead to substantial growth over time.
Best Digital Marketing Activities for Insurance Agencies
A set of activities that works best for one type of digital marketer might not be the same set of activities that works best for another, especially in a highly regulated industry such as insurance. Here are some key digital marketing activities you should consider implementing to achieve success in your insurance agency.
1. Email Marketing
Despite the rise of social media and other forms of communication, email remains one of the most effective marketing channels. It's direct, personal, and highly customizable. With the right strategy, you can use email marketing to nurture leads, increase customer loyalty, and boost conversions.
2. SMM
Social media provides a platform to engage with your audience, share valuable content, and showcase your brand personality. Whether it's Facebook, LinkedIn, or Instagram, each platform offers unique ways to reach and connect with your audience.
3. Video Marketing
Video marketing is a powerful tool for insurance agencies. Videos can be more engaging than text and are often more effective at explaining complex topics like insurance policies. They can be shared across numerous platforms, from YouTube and your website to social media and email campaigns.
4. Content Marketing
Content marketing involves creating and sharing valuable content to attract and engage your target audience. This might include blog posts, infographics, ebooks, and more. When done right, content marketing can establish your agency as a trusted authority in the insurance industry and attract more leads.
5. Webinar
Hosting a webinar allows you to share your expertise with a large audience in real-time. You can use webinars to cover important insurance topics, answer common questions, or even invite guest speakers. This not only provides value to your audience but also positions your agency as an expert in the field.
How Can Anthem Software Help?
Anthem Software provides robust solutions designed to streamline and optimize your insurance agency's operations. From CRM and agency management to digital marketing tools, Anthem offers a suite of features that can automate your workflows, enhance your marketing efforts, and ultimately drive your agency's growth.
With Anthem's software, you can easily manage your client base, automate email campaigns, optimize your website, and track your marketing performance. By investing in Anthem's software, you can save time and effort while also gaining actionable insights to better understand your customers.
Final Words
Digital marketing for insurance agencies might seem daunting, especially with the constant evolution of digital trends. However, a clear strategy, an understanding of your customer base, and the right tools can open the door to a wealth of opportunities for growth and success. From reaching your target audience and building brand awareness to converting leads and nurturing customer relationships, digital marketing is a powerful tool that every insurance agency should leverage.